Remember those Cease & Desist letters sent out to three public school advocates a little over a week ago by iStation through the legal office of a man who also is the finance chair of the NC GOP? Those people questioned the process by which iStation has procured a contract through NCDPI and presented hard evidence to show that their questions needed answers.
Since then there have been multiple instances in which the same inquiries have been made.
Here's one from the editorial staff at the Charlotte Observer:
In other words, we know things are a mess. What we don't know is why. Why did Johnson choose to discontinue a relationship with Amplify, which had been testing K-3 students in the thus-far disappointing Read To Achieve program? Why did Johnson ignore experts and seemingly steer the procurement process toward a different company, Texas-based Istation, which ultimately got the three-year, $8.3 million contract? And, importantly, why does the superintendent continue to be so cagey about it all?
Even an editorial cartoon showed up in today's Charlotte Observer edition concerning the very things that those three people received their C&D for.
Even NC Senate Democrats sent a request to Sen. Berger to open an investigation into the iStation contract raising those very same concerns.
Sen. Natasha Marcus even posted this to her Twitter feed his week.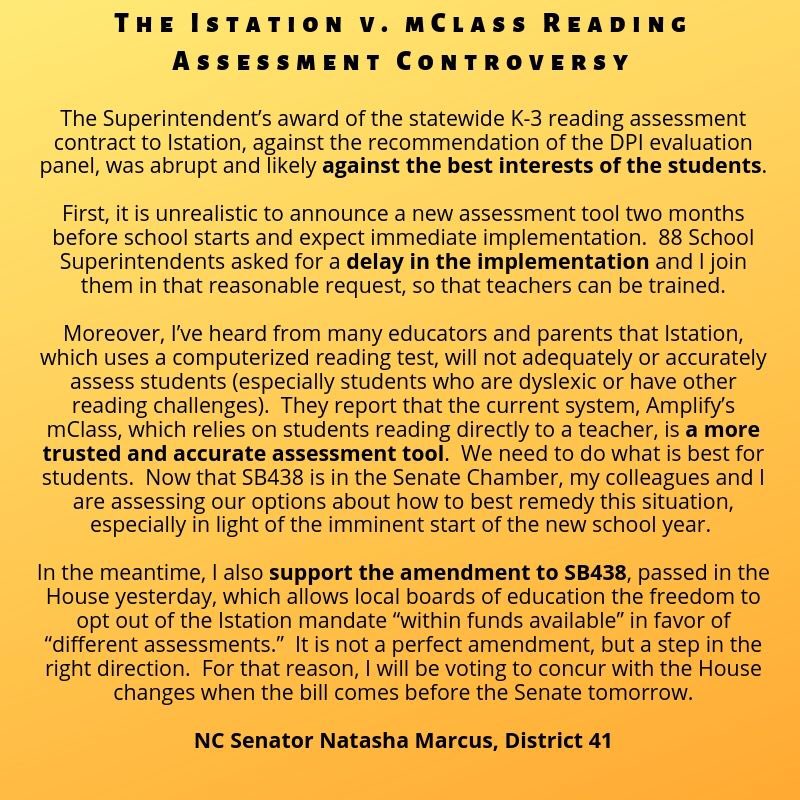 So, my question to iStation is this – have you sent all of these people Cease & Desist letters from Kieran Shanahan's office or were the three that were sent to good people raising legitimate concerns just a scare tactic?
And it is rather ironic that we have not heard one thing from DPI or Mark Johnson about the iStation contract in the last couple of weeks.
It's kind of like they got a C&D themselves and are obeying it.