If you have not heard just yet, Art Pope has been nominated to finish the term of resigning UNC Board of Governor Bob Rucho.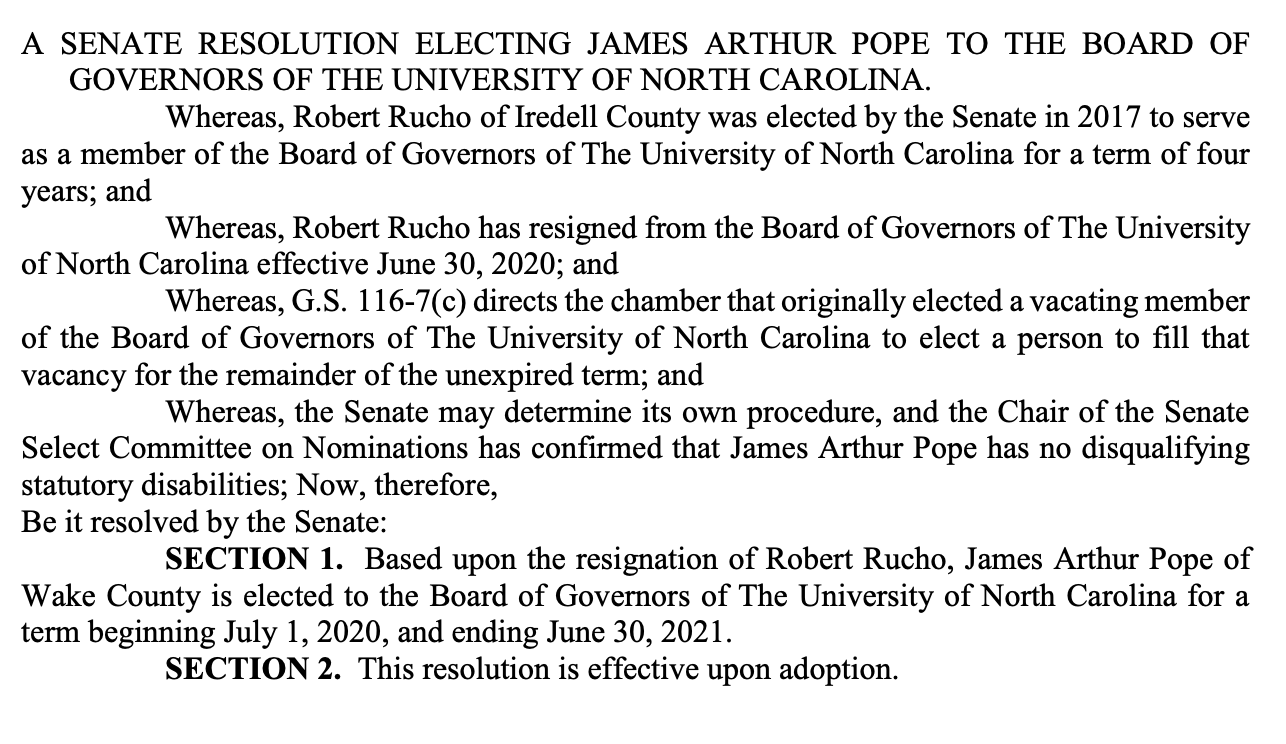 Most public school advocates know of Art Pope as the founder of libertarian think tanks the John Locke Foundation and the James G. Martin Center for Academic Renewal.
The John Locke Foundation (and its sister entity the Civitas Institute) are no strangers in the educational reform movement that has plagued North Carolina's public school system. Both lobby hard for the privatization of public schools through vouchers, charters, ESA's, etc.
Art Pope was also Gov. Pat McCrory's first deputy budget director. Those initial budgets that began to redefine how teachers were paid in the early 2010's and still hamper recruitment of teachers in our schools have Pope's fingerprints all over them.
But Pope becoming a member of the UNC Board of Governors should also be noted as he has been eyeing reforming the UNC system. That's why he founded the James G. Martin Center for Academic Renewal, an arm of the Koch brothers ambitious quest to redefine post-secondary education.
From Rob Schofield in a post today on NC Policy Watch:
"And when it comes to higher education, North Carolinians should have no doubt what that "vision" entails. For years now, people funded with Pope contributions at the James G. Martin Center for Academic Renewal (formerly the Pope Center for Higher Education) have churned out a torrent of hard right propaganda — relentlessly attacking supposed left-wing biases in American colleges and universities, calling for less public spending on higher education, arguing that too many young people attend college in the first place, lamenting the supposed suppression of conservative voices, and, well, you get the picture.
Given this backdrop, there seems little doubt as to the kinds of policies Pope will champion at UNC.
All that said, it's also clear that Pope, unlike so many of the conservative cronies with which the legislature has stocked the Board of Governors in recent years, is not a loudmouth blowhard or a corrupt schemer looking to line his pockets. He's serious about this stuff. It almost feels like, having watched the crazy dysfunction that conservatives have brought to UNC in recent years, the head coach is coming down off of his high perch to take direct control.
Those who care about the UNC system and its longstanding position as one of the nation's great public universities should be very concerned."
But Pope's obvious quest to redefine the UNC system (which is considered one of the best in the country) is also tainted with some rather disturbing history.
From The Daily Tar Heel in in 2017:
TO THE EDITOR:
In January 1975, a campus organization called the Union Forum used student fees to bring the National Information Director of the KKK to campus. His name was David Duke.

Black students at the time were outraged.

A press release from the Black Student Movement read in part "The mere sanctioning of the spread of Duke's decadent philosophy is an unforgivable display of latent racism. Many have construed the argument of objectivity out of proportion. It is such "objectivity" that allows racial oppression even to this date. We as Black people feel divinely justied (if not obligated) to repress the rejuvenation of the Klan philosophy at its very on-set."

And so they resisted.

Shortly after Union Forum Director Jim Conrad introduced Duke to the stage, black and white students began to protest.

Despite attempts from University Ofcials, Student Body President Marcus Williams, and even Duke himself, the students refused to leave or to be silent until David Duke left the building and his podium and microphone were removed from stage. They disrupted his speech.

In the aftermath of this protest, The Daily Tar Heel received over fty letters offering opinions in favor of and in opposition to the actions students took that day.

But one freshman from Raleigh was especially perturbed. So much so, that he decided to sue the then President of the Black Student Movement, Algenon Marbley, in undergraduate honor court for "disruption", a charge that could've led to Marbley being expelled from school.

The freshman from Raleigh who brought the suit, who tried to get the BSM President kicked out of school for disrupting a speech on campus by the KKK, was Arthur "Art" Pope UNC '78.

Now, Art Pope is one of the most prolific funders of the Republican Party in the State of North Carolina. A Party that continues its assault on civil rights and against black, brown and trans people to this day.

Does Arthur Pope still believe the KKK have a legitimate claim to rst amendment protection when they speak and recruit students at campus sponsored events?

Someone should ask him when he visits campus Tuesday as part of the Institute of Politics'Fellows Program. Graham Memorial Hall Room 035. Starts at 515.

Andrew Brennen
Political Science
Junior
And from the Twitter feed of @antipyrine (Groucho Marxist) from 2017 when the the above letter to the editor ran: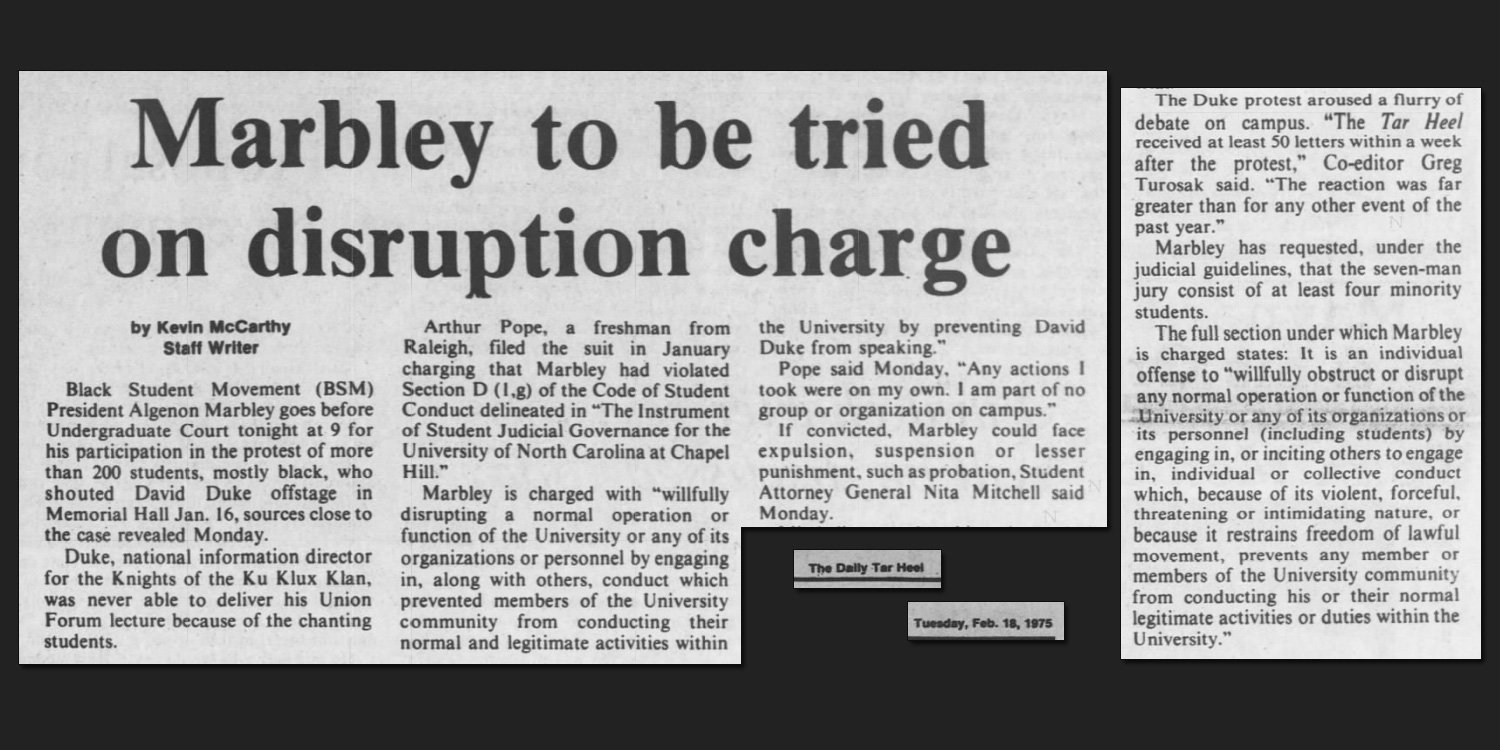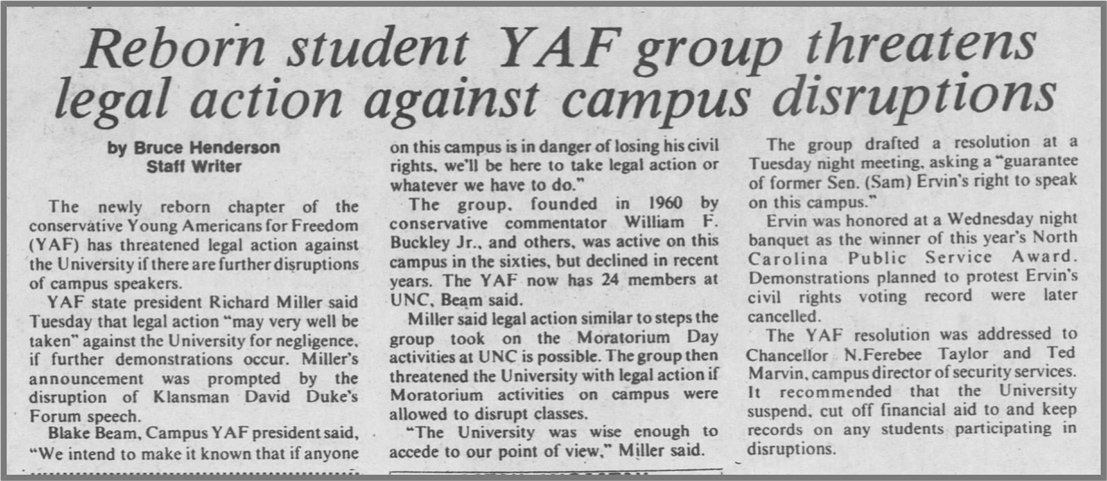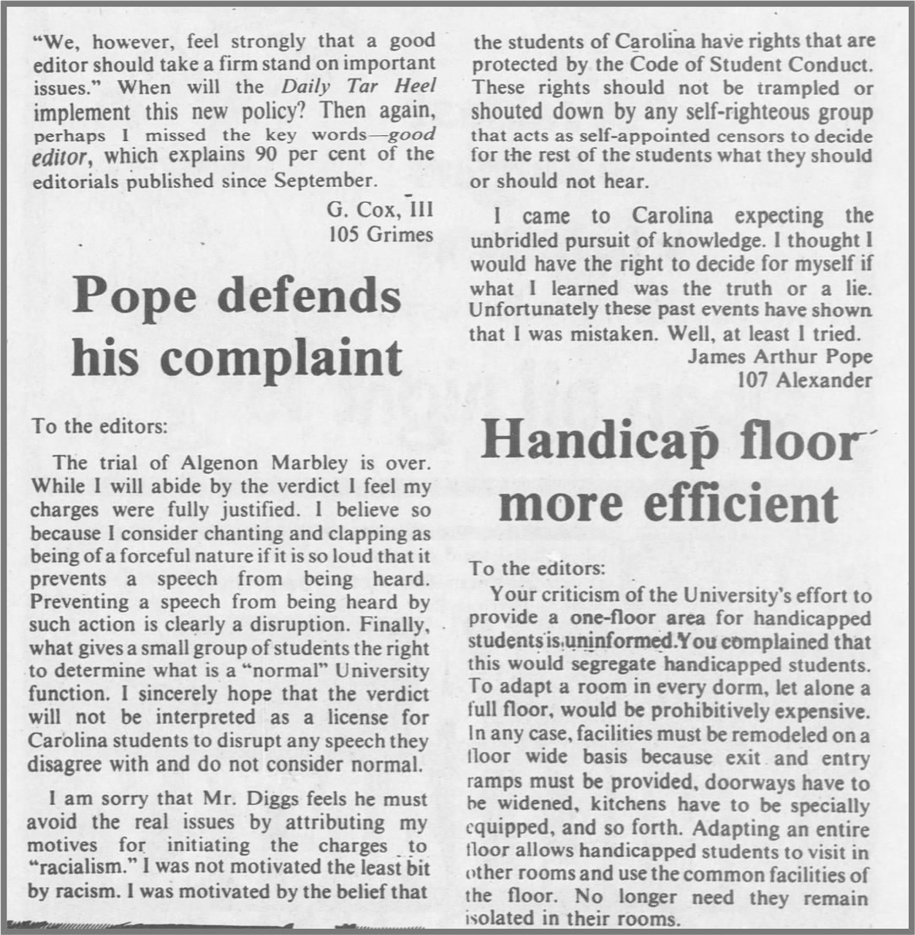 Please vote in November and help make Pope's tenure on the UNC BOG a very temporary one.