No Senate budget in the state of North Carolina has been released in the past without Phil Berger's approval. Lt. Gov. Dan Forest shares many of Phil Berger's beliefs on what should happen with public education.
And Catherine Truitt stood on a stage with both last week in agreement with their outlook on public education.
If Phil Berger and Dan Forest had their way:
Schools will still be judged by the 80/20 formula where the %80 is achievement. NC is the only state where achievement is over half of the formula.
There would be no graduate pay restoration.
There would be no longevity pay restoration.
There would be no Medicaid expansion.
There would be no minimum wage for school employees.
There would be more money for vouchers.
If Catherine Truitt does not think so then she can prove it otherwise. But just look at the voting records of people in her party and you will see that Berger controls the rank and file. And if she wants to make the argument that a post like this is targeting a certain political party, then it sure is. But this is not the party that my grandparents knew. This is the party that has drifted from its roots of supporting strong public schools in this state and done what Phil Berger dictates.
The thing is, Catherine Truitt would simply rubber-stamp the wishes of a Phil Berger and a possible governor in Dan Forest.
Truitt claimed in a recent debate with Jen Mangrum this month,
"Of the two of us, I'm the only one who actually has direct experience working with the governor's office and the State Board of Education and local superintendents, and the UNC system and the community college system office."
What she is talking about is her time as a senior education advisor to Gov. Pat McCrory, working in the office of then UNC-CH president Margaret Spellings, and recently the chancellor of Western Governors University online campus here in NC.
Remember that Spellings was one of the architects of No Child Left Behind and that WGU was partly financed by the NC General Assembly to get its foot in the state – a state that already had a fine university system.
That resume was built in the last ten years.
And in the last ten years, these things have happened to public education – its schools and its teachers / staff.
Teacher Pay – Manipulated raises to make it appear that the "average" teacher salary raise is higher than "actual" raises.
Removal of due-process rights – Teachers who are not protected by due-process will not be as willing to speak out because of fear.
Graduate Degree Pay Bumps Removed.
Push for Merit Pay and Bonus Pay – The bottom line is that merit pay destroys collaboration and promotes competition.
Health Insurance and Benefits – Simply put, health benefits are requiring more out-of-pocket expenditures, higher deductibles, and fewer benefits. Legislation has also taken away retirement health benefits for those who enter the profession now.
Attacks on Teacher Advocacy Groups (NCAE) – Seen as a union and therefore must be destroyed, the North Carolina Association of Educators has been incredibly instrumental in bringing unconstitutional legislation to light and carrying out legal battles to help public schools.
Revolving Door of Standardized Tests – Like other states, we have too many. Such a revolving door makes the ability to measure data historically absolutely ridiculous.
Reorganization and a Weakening of the Department of Public Instruction – It all started with HB17 that was "passed" in a special session of the North Carolina General Assembly after the 2016 elections and before the new terms began.
Less Money Spent per Pupil – When adjusted for inflation.
Remove Caps on Class Sizes – The math is simple: more students per teacher.
Jeb Bush School Grading System – This letter grading system used by the state literally shows how poverty in our state affects student achievement.
Cutting Teacher Assistants – NC has lost nearly 7500 teacher assistant jobs in the last ten years.
Opportunity Grants – Opportunity Grant legislation is like the trophy in the case for the GOP establishment in Raleigh. It is a symbol of "their" commitment to school choice for low-income families. But it is the least transparent system in the nation.
Charter Schools – Many charters abuse the lack of oversight and financial cloudiness and simply do not benefit students. Especially in rural areas, uncontrolled charter school growth has been detrimental to local public schools.
Virtual Charter Schools – There are two virtual charter academies in NC. Both are run by for-profit entities based out of state. Both also have rated poorly every year of their existence.
Innovative School District – Only one school is part of this ISD which has its own superintendent and was really was never wanted in the first place.
Reduction of Teacher Candidates in Colleges – At last report, teaching candidate percentages in undergraduate programs in the UNC system has fallen by over 30% in the last five years.
Elimination of Teaching Fellows Program – Once regarded as a model to recruit the best and brightest to become teachers and stay in North Carolina was abolished because of "cost". Yes, it was reintistited, but as a shadow of its former self.
Class Size Chaos – It was never funded by the NCGA.
Municipal Charter School Bill – Passed as a local bill, it now has gone statewide to literally allow for segregated schools.
A Puppet of a State Superintendent – If someone wants to make an argument for how great a job Mark Johnson has done, then I am ears.
There is more.
Too many kids are hungry and poor in this state. ALEC style reforms have not worked. Veteran teachers are being ignored.
The graphics below chart actual data during the time that Phil Berger has been leader of the NC Senate.
From the Public School Forum of North Carolina's report on top ten issues in NC education.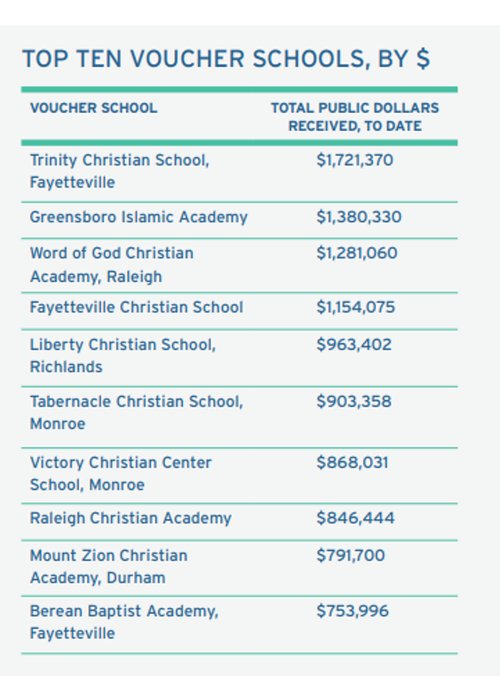 Source: Kris Nordstrom
Would like to see Truitt provide an explanation for each one of these.