Like every other year, 2019 has been a rather contentious, perplexing, and frustrating year for public school advocates. There is simply a lot working against us.
However, that only means that we keep fighting for public schools. As the new year arrives, it might be worthwhile to review the top public education issues that surround North Carolina's public school system that bridge 2019 to 2020.
And they are not listed in any particular order as all of them have an incredible amount of gravity.
1. Leandro Report by WestEd
It's 301 pages.
It has 65 data exhibits in the actual report.
It has 52 data exhibits in the appendices.
And it has 12 basic findings listed below.
Finding #1: Funding in North Carolina has declined over the last decade.
Finding #2: The current distribution of education funding is inequitable.
Finding #3: Specific student populations need higher levels of funding.
Finding #4: Greater concentrations of higher-needs students increases funding needs.
Finding #5: Regional variations in costs impact funding needs.
Finding #6: The scale of district operations impacts costs.
Finding #7: Local funding and the Classroom Teacher allotments create additional funding inequities.
Finding #8: New constraints on local flexibility hinder district ability to align resources with student needs.
Finding #9: Restrictions on Classroom Teacher allotments reduce flexibility and funding levels.
Finding #10: Frequent changes in funding regulations hamper budget planning.
Finding #11: The state budget timeline and adjustments create instability.
Finding #12: There is inadequate funding to meet student needs.
As the Leandro Report by WestEd was released, it was no doubt that those who have been at the helm of budgetary control in North Carolina would try and deflect the report's findings.
Sen Phil Berger's spokesperson Pat Ryan offered the senator's thoughts and those thoughts show an absolute denial of culpability.
"Money doesn't buy outcomes," Pat Ryan, a spokesman for Republican Senate leader Phil Berger, said in a statement Tuesday.
Makes one wonder if that very thought is communicated concerning campaign financing by Sen. Berger because, well, you know, money doesn't buy outcomes.
2. Class Wallet & iStation
When Mark Johnson announced that he wanted to use ClassWallet last spring to "allow" teachers to "control" their supply purchases and give a private company the power and money to track those purchases without local LEA oversight, he was met with great resistance from teachers and educational leaders.
He deserved it.
When Mark Johnson announced that he signed a contract with iStation to replace mClass right at the end of the year against the recommendations of a DPI-formed committee, it sent shock waves around the state and the brush-back from that was intense – just read Justin Parmenter's great work on that on his blog Note From the Chalkboard.
He deserved that as well.
It's worth noting that both ClassWallet and iStation hired the same lobbyist in NC to procure those contracts from DPI. His name is Doug Miskew from the Public Sector Group in Raleigh.
A simple search on the official Secretary of State of NC website that registers all official lobbyists  for one Doug Miskew reveals:
The groups and interests he officially represents includes:
The battle between using iStation and Amplify's mClass is still raging. In the first two weeks of January of 2020, another hearing will commence to see if Mark Johnson's enabling of the iStation contract will be allowed.
3. Exhibit C
Speaking of iStation:
Many of you have seen the released letter by DPI to Amplify concerning their appeal of the iStation contract. In it, Mark Johnson lays out the argument that the second RFP that had voted to go with Amplify was canceled because of a confidentiality breach.
He offer this text message that was supposedly given to him and DPI by a whistleblower as evidence.
It is known as "Exhibit C."
It's hard to read – so here is the text:
Well, just got off another marathon call with _______. 1 hour 45 minutes all about
RFP what a mess!
————————————————————————————————————————————
Geez! What is going on?
————————————————————————————————————————————
MJ came into their voting meeting to basically (without coming directly out and
specifying) tell them how to vote! However the vote did not go his way so it will be
interesting to see how he gets his way on this.
————————————————————————————————————————————
OMG! I know they were shocked!
————————————————————————————————————————————
Yep, she said they walked out of the building and several people said what just
happened?
————————————————————————————————————————————
Someone, _______ should've recorded it on her phone!
————————————————————————————————————————————
She thought about it but her phone was lying on the table in front of everyone.
————————————————————————————————————————————
Oh yeah that would be tough…who else on the team was in the room? Have they named a replacement for _______?
————————————————————————————————————————————
_______ She and _______ and _______and _______ and _______ voted for children. _______
and one of Mark's staff voted for helping teachers. She said she about helping
teachers and never once mentioned children and saving teachers' time.
————————————————————————————————————————————
Ass
The sad thing is, he may win his next race because he will talk about how he helped
teachers!
————————————————————————————————————————————
Well that's why he is pushing this. Children can't VOTE so we appease lazy ass
teachers!
————————————————————————————————————————————
Exactly!
As much as Mark Johnson has pointed to this text thread evidence for his case, it actually raises more questions about timing and previous intent on the part of the state super.
And that "lazy ass teacher" quote just came up again this week in a tweet.
4. Budget Impasse
Just look at the video below.
That was back in November. Over 160 days and millions of dollars wasted to keep the NCGA in "session" and no budget was ever passed. And according to Sen. Phil Berger, it is all about teachers.
5. iPads
So last year Mark Johnson bought 24,000 iPads with Read to Achieve money that was just laying around.
Superintendent of Public Instruction Mark Johnson announced the plan Tuesday morning, holding up an iPad for the media, the governor and other members of North Carolina's Council of State. Johnson's office put the statewide pricetag for the devices at about $6 million. It didn't immediately have a per-unit price to quote.

The money will come from some $15 million in unused money the Department of Public Instruction has from previous budget years. Just why this money has been sitting unused is a matter of some dispute.
But many of them sat in a warehouse for about a year and Johnson still purchased some more. From WRAL this past August:
More than 3,200 iPads are sitting in a state warehouse – 2,400 of them have been there for a year – but North Carolina Superintendent Mark Johnson says the devices will be delivered to districts this school year. He plans to announce details next week about what schools will be receiving them.

Johnson bought 24,000 iPads for North Carolina's K-3 teachers last year, but schools returned about 2,400 of them, or 10%, because they preferred other devices, such as Google Chromebooks. Last month, Johnson bought 800 more iPads using money from his superintendent's budget, bringing the total in the warehouse to 3,200.
So after receiving criticism that there were some iPads collecting dust, Johnson then made sure to get them out to schools. He said that the hurricane season had caused delays the previous school year.
More than 3,200 iPads are sitting in a state warehouse – 2,400 of them have been there for a year – but North Carolina Superintendent Mark Johnson says the devices will be delivered to districts this school year. He plans to announce details next week about what schools will be receiving them.
Apparently those details were not very detailed.
200 iPads went to Okracoke Island which was devastated by Hurricane Dorian just days before. But didn't Johnson say that hurricanes kept iPads from being distributed when he was approached about the 3,200 in the warehouse in August?
But on Sept. 30th, Johnson's spokesperson made sure to let everyone know that all of the iPads had been distributed.
WRAL.com reported on Sept. 30th that the remaining iPads in a central warehouse had been distributed by Mark Johnson's office after repeated inquiries by news organizations and public school advocates.
RALEIGH, N.C. — More than 3,200 iPads sitting in a state warehouse – 2,400 of them for the past year – have all been delivered to school districts across the state, a spokesman for North Carolina Superintendent Mark Johnson said.

Johnson faced criticism this summer after Charlotte teacher and education blogger Justin Parmenter wrote that thousands of iPads the superintendent bought were "collecting dust at the North Carolina Textbook Warehouse in Raleigh."

Johnson's spokesman, Graham Wilson, told WRAL News by email Friday afternoon that "[a]ll of the iPads have now been distributed."
Then this happened.
The teachers were told that they simply could "reach out" to ask for iPads – the ones that were already said to have been distributed.
6. State Health Plan
Remember this from last April?
"Did You Know?
During 2017, the state spent $3.3 billion on medical and pharmacy benefits. At the same time, costs have increased 5 to 10 percent while funding for the Plan only saw a 4 percent increase. In addition, the state has a $34 billion unfunded liability for retiree health care. This liability is a result of promises that were made for lifetime benefits but no money was ever put aside to pay for that benefit.
What Can You Do?
You can help sustain this benefit by taking control of your medical costs."
Many teachers and other state employees received those words from Dale Folwell, CPA who is also the State Treasurer for North Carolina. He sent that letter with new ID cards  for the state health plan that is contracted through Blue Cross and Blue Shield.
And simply put, his letter was rather insulting.
It was hard not to think that in a missive meant to outline benefits to a person whom "North Carolina values," one was also being told that he/she literally cost too much, was promised too much, and that it was that teacher's job to not be as much of a burden on the state.
And that paragraph under the "Did You Know?" heading actually shows a bit of a contradiction in how the state seems to treat the teaching profession: as prices for services and products go up in most every segment of the economy, the willingness to invest in those very things seems to not be the same.
What if the words associated with benefits were replaced with words associated with public education?
7. Vilification of NCAE
Last November, Sen. Ralph Hise went out of his way to release a statement trying to frame NCAE as an organization that does not actually have a large membership and the best interests of the teaching profession in mind. Lt. Dan Forest made it a part of his now infamous letter to teachers he sent this month.
Hise (and Forest) claimed that NCAE only represented a little over 5% of teachers in North Carolina.
Of course Hise's press release has a quote from Hise:
"The NCAE, which represents just 5% of teachers, is fighting tooth and nail to keep the other 95% of teachers from getting a pay raise."
What Hise was referring to was a report from the State Auditor's office (Beth Wood) about membership in organizations that allow for automatic deductions for membership dues.
It has this data table:
Hise is a statistician by trade. He should know numbers and he is deliberately misleading in his statement about NCAE's membership. The very report he "quotes" tells us that. Look again.
Only one group on that list has a membership that fully pays through payroll deductions. In fact, at least two of the groups have memberships that are ten times the amount of people who use payroll deduction. Any statistician would know better than to misrepresent the numbers in a statement (unless he did it for political purposes).
There are two other teacher advocacy groups on that list whose memberships are mostly represented by people who do not use payroll deduction. PENC has 4.59 times the total number of members as their payroll deduction members. The NCCTA has 16.39 times the total number of members.
If NCAE followed those trends (and it does), it could might have a membership of at least 24,744.
That's a pretty big number. What would that look like? Something like this:
If it had the same ratio as NCCTA, then that number would be around 88,000.
Wow! Probably not that much, but….
And other republicans have been using the same talking erroneous talking point. Rep. Rick Horner repeated the claim on his Facebook account that it went unnoticed.
8. Budget Surpluses
Last August Phil Berger and Tim Moore hinted that they might may push through legislation that would divide up the state's "surplus" from this past year and "send" it back to North Carolinians in the form of individual $125 checks in the name of "fiscal responsibility."
The fact that there is such a huge surplus in this state's budget while yet another round of large corporate tax cuts took hold this year is not really a sign of fiscal responsibility. It's more of a sign of lack of investment in our state's infrastructure, especially the public school system. Kris Nordstrom in his post "A modest proposal: Use the state surplus to help meet school construction needs" made a strong case built on actual figures that this surplus should go to meeting school construction needs.
One in five students in the state's public schools lives at or below the poverty line. We had hurricanes decimate many of our eastern municipalities last year. This state has refused to expand Medicaid when so much evidence points to its benefits without barely any cost to our state.
This teacher would have gladly asked that my portion of the surplus that I helped to create be put back into the state's public schools wherever it is needed most.
9. May 1st
Almost every county and school system showed it's support for the All Out on May 1st this past spring.
34 school districts. 10 charter schools.
There were thousands who marched. And so many more who lent support from their home districts.
To think that everyone who put in a personal leave day for May 1st was able to make it to Raleigh for the actual march is erroneous. The WSFCS school system brought a couple of chartered buses and many people came with their own transportation. Over 1300 put in for a personal leave day from the WSFCS system, many of whom knew that they could not actually physically be there for a variety of valid reasons.
That's 1300 people in one school district who made it possible for many to go to Raleigh and those who did not make it to Raleigh were still marching and rallying on their own.
The May 1st teacher march and rally was more than an actual demonstration of unity in a closed area that saw a sea of red flow through the streets of Raleigh. It was the sum of all of those who supported the very causes of why we marched. In WSFCS, that included all of the parents, community members, students, and public school advocates who in one way or the other helped to show the NCGA that its priorities should change in respect to public education and serving the needs of our students.
1300 school employees put in a personal day. So many more in the system supported All Out for May 1st.
And that's just for one of the 115 LEA's in the state. To think of the actual number of school employees around the state who put in a personal day in support of May 1st and add that to all of the people who were in active support of All Out for May 1st, then you would have a truer count of how many marched and rallied not just in Raleigh, but in the state.
No image could show that count.
But a voting booth can. Last year's May 16th march showed that, and 2020 has a lot more at stake on a national level.
May 1st was another step. Continued activism, advocacy, and energy does not need a special date or specific place to be displayed. It needs a focus and that focus has the face of our students on it. That means every day in every place we do what we can to strengthen their public schools and make sure they are fully funded.
10. The Really Bad Letter to Teachers From Dan Forest
On December 6th teachers across the state received in their school email accounts a letter from Lt. Gov. Dan Forest concerning his "record" on public education. It was a "response" to Gov. Cooper's recent letter about education spending and teacher pay.
In his missive, Forest bragged a lot about what he has done for public schools as the lieutenant governor when in actuality he has acted against them. Simply put, Forest is hoping that teachers will forget what this current NCGA he is aligning himself with has actually done to public education since 2011. That includes the removal of due process rights and graduate degree pay increases for new teachers, a greater reliance on standardized tests, the elimination of class size caps, instituting a punitive school grading system, fostering unregulated charter school growth and vouchers to religious schools, as well as the creation of an ineffective Innovation School District.
Add to that at least a 30% reduction in teacher candidates in our state's education programs.
Every claim from pay freezes to Medicaid expansion to teacher salaries to per-pupil expenditures to NCAE membership numbers was a simple spun view of issues that require much more explanation.
Reading Forest's letter is like listening to a man running for an office against a group of teachers rather than the incumbent.  And if Forest considers the actions of a group of five thousand people enough to send a letter like this to tens of thousands of public servants, then imagine what a group of over twenty thousand would make him do.
11. Mark Johnson's Fight Against "The Deep State"
In November, Mark Johnson ended months of open secrecy by announcing his candidacy for Lt. Gov. of North Carolina using Trumpian buzzwords like "deep state," Media Elite,"and "Establishment Insiders."
But it doesn't change the fact that we still have a lame duck in the office of state superintendent for the next year.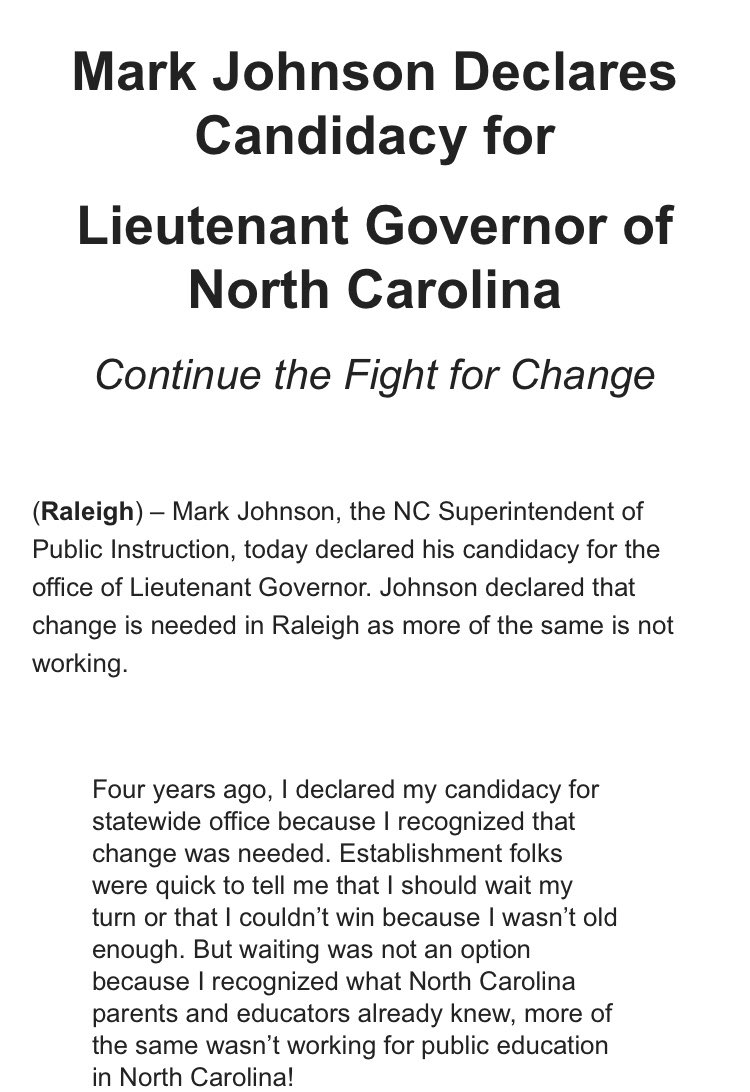 A man who is barely 36 years of age who has been a teacher, went to law school, lawyer, school board member, and state superintendent who told us he happens to still be a lawyer, is telling us about the "deep state."
I wonder if Mark Johnson would be willing to define the term "deep state." If one is a lawyer as Johnson says he is, then he should look for concrete evidence. The rules of discovery compel him to do so.
Google the term and you get this:
"a body of people, typically influential members of government agencies or the military, believed to be involved in the secret manipulation or control of government policy"
"Typically influential members of government agencies?"
So, who could that be?