In an effort to politicize everything and try to salvage some sort of momentum in a failing race for governor, Dan Forest again did what he does best: show a complete lack of leadership ability and spend all of his energy blaming someone else.
Forest recently lost a legal battle against Roy Cooper over the ability to issue executive orders. And the following shows another recent defeat for him: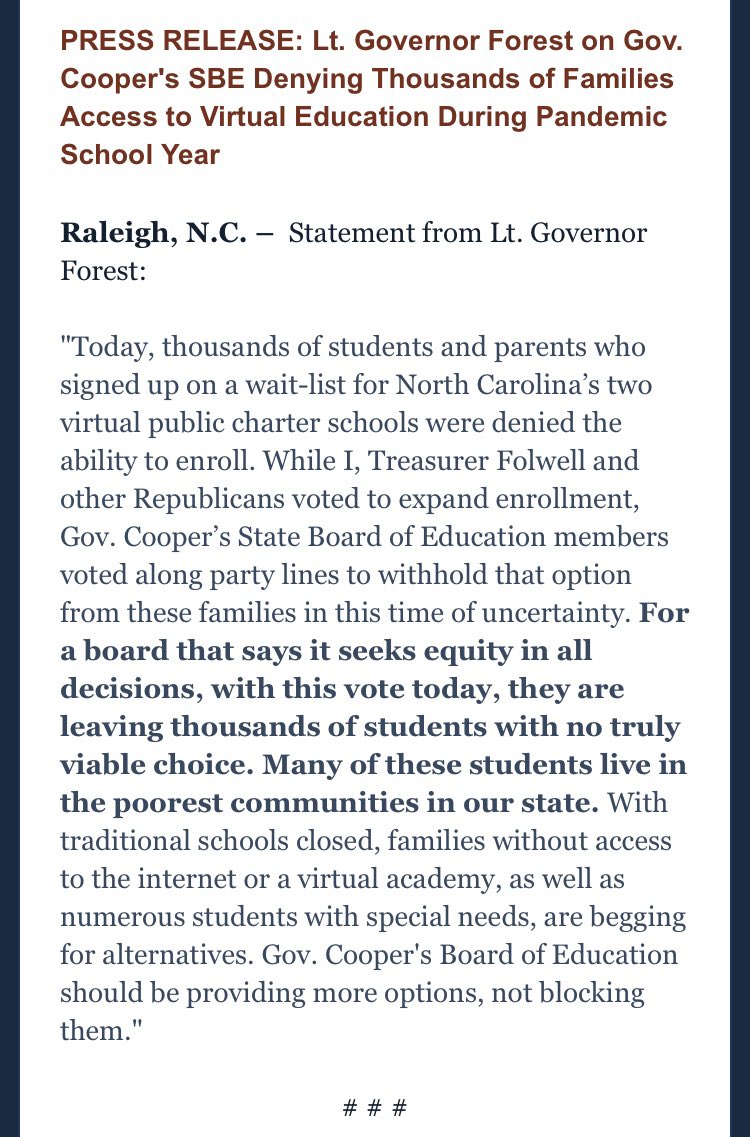 First, the two virtual charter schools that he is referring to are two of the lowest performing schools in the state.
Have been.
Since they came into existence.
From the Greensboro News & Record in Sept. of 2018,
"North Carolina's two online charter schools have been open since 2015, but both schools have been unable to shed their state status as low performing.
Statewide test results released last week show that N.C. Connections Academy and N.C. Virtual Academy received D grades for their academic performance for the 2017-18 school year. It's the third year in a row that both public schools have gotten a D and also failed to meet academic growth expectations on state tests, putting them on the state's list of "continually low-performing schools" .
They didn't improve in the last report either.
Secondly, look at what Forest says in his statement more closely.
Forest might need to talk more about how families with access to the internet would be able to access the virtual charter schools. In fact, Forest might want to explain how he would increase chances for students in those poorer communities to better health care while he is at it.
Next, Forest really skewed the argument with the title of the press release.
Aside from the fact that Cooper didn't even have a vote in this, there are many charter schools that have a virtual platform working right now that these students could apply to. SBE member J.B. Buxton pointed out to Forest that there are many such charters offering virtual platfoms that students could use.
Forest seemed to dismiss that by saying the two virtual charters had more experience. That experience still has those schools ranking lower than almost 99% of schools in NC as far as growth is concerned.
Then there was this part:
Yep. He made it about political parties. But Forest forgot to mention something worth noting especially since as Lt. Gov., he has been on the state board for eight years.
He forgot to tell you that Gov. Cooper got to appoint certain members to the state board a couple of years ago because people in Forest's own party wanted Cooper to have that ability.
When Bill Cobey, a republican, announced his resignation from the State Board of Education in July of 2018, it seemed coincidental. But then two other members submitted resignations from the SBE.
Alex Granados reported in the summer of 2018 for EdNC.org:
"Also since the resolution of the Supreme Court case and reorganization at DPI, Cobey, as well as Board Member Becky Taylor, both announced their resignations. Today, Board member Greg Alcorn added his name to that list, announcing his resignation in a letter to Governor Roy Cooper" (https://www.ednc.org/2018/08/10/two-formerly-high-level-dpi-staffers-out-another-state-board-members-resigns/).
Granados then reminded readers that all three of these people were selected for their terms by Pat McCrory. They were republican appointees. They submitted resignations during Roy Cooper's term, a democrat.
"Since the vacancies have occurred prior to the end of the Board members' terms, Cooper can appoint new members to finish out their time on the Board without seeking legislative approval. Appointees to the State Board require legislative confirmation if they are being appointed to full terms, but not if they are filling a premature vacancy.
That may be particularly helpful to Cooper, who has had trouble getting his appointees through the General Assembly."
Forest was on the state board at that time.
And all three of the newer appointees are STILL ON THE BOARD. In fact, all of Cooper's nominees in 2019 for the state board were actually confirmed by the NCGA which was heavily controlled by Forest's own party.
Those nominees could have been rejected. But they were not.
Another baseless attempt at blame from Dan Forest.