The Excellent Public Schools Act of 2021 was presented in a fanfare fashion this week by Sen. Phil Berger, Sen. Mike Lee, and Sen. Deanna Ballard.
Presented as revamped version of Read to Achieve fused with "Hooked on Phonics." it really looks good on the surface.
But it will never help schools considering the past actions of the very people who are sponsoring it – people who can't even pass a new budget because of political grandstanding.
Consider the distinct parts of the bill.
Professional development? Training in Teacher Prep Programs? Align to Read to Achieve? Interventions and Individual plans? Reading Camps? Bonuses? Funding? Digital Reading Initiative? Phase out Alternate Assessments? Data Collection?
Some of those are antithetical to the very priorities that Berger and his cronies have shown. Actually Berger led the charge to take away lots of professional development from schools.
From WUNC.org in December of 2018:
"The General Assembly cut the budget line item for teacher professional development from the state budget during the recession and has never restored it. In 2008, the state budgeted $12.6 million for educator professional development. That line item has been reduced to zero. Now schools might pay for some professional development from other budget areas—like federal funding or state funding to support digital learning — or teachers can turn to grants."
As for training those in teacher prep programs, Berger might want to remedy the factors that are leading to this: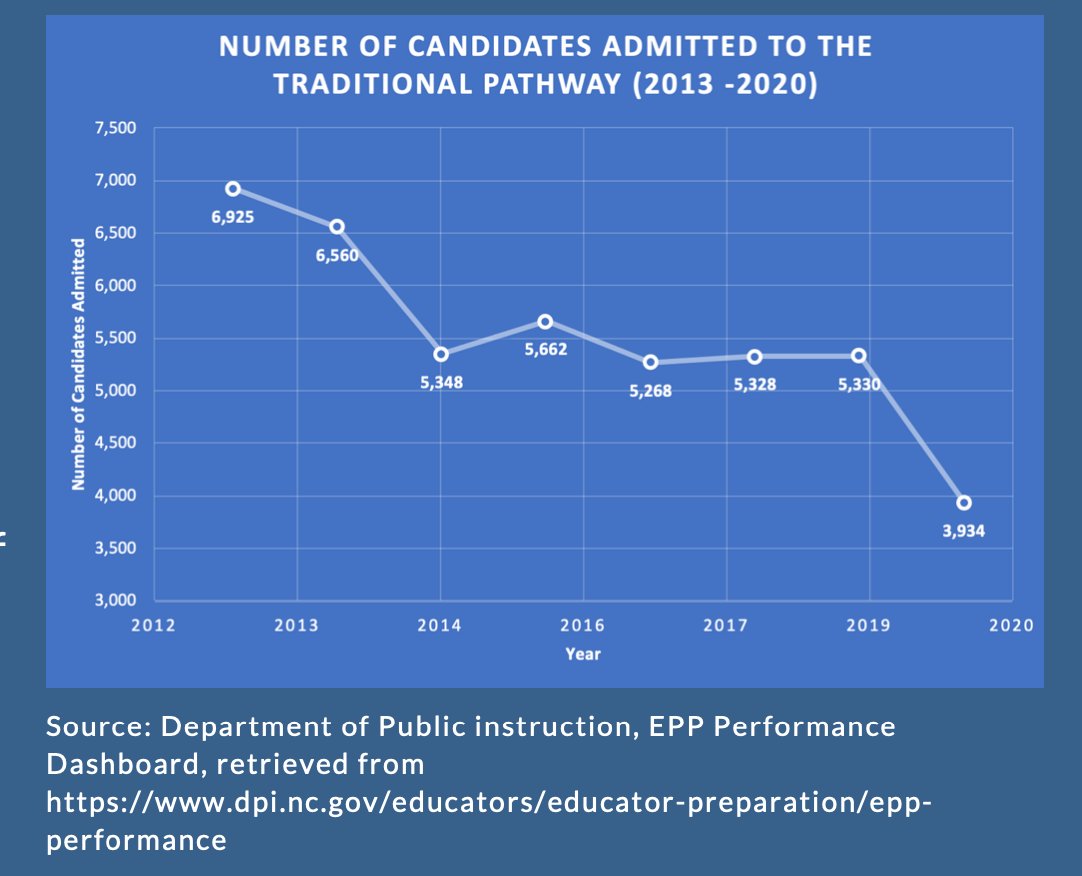 Interventions and personalized reading programs for students? Would help if Berger would invest in actual people to help that happen like teacher assistants and reading specialists.
North Carolina has over 7400 fewer teacher assistants than it did ten years ago. When study after study published by leading education scholars preach that reaching students early in their academic lives is most crucial for success in high school and life, our General Assembly  actually promoted one of the largest layoffs in state history.
Also consider that years ago many elementary schools would have their own reading specialists, professionals who could work with students and with teachers. They were a valuable resource to help plan, reflect, and coach teachers and staff. They were current on techniques and resources. Now it is hard to even find one who is totally committed to a single school. Currently, it seems that people who qualify as reading specialists are centrally placed having to travel to many schools.
Reading camps? That takes money and investment. Berger has a record that shows he will not fund those types of initiatives.
Bonuses? Bonus pay does not work. It's like merit pay. There is really no evidence that it helps public schools. Remember the ABC's from the late 1990's and the early 2000's? Yep, I do too. So should Sen. Berger. It's like academic blood money.
Data Collection? SAS and EVAAS already have shown us what "data collecting" does.
And phasing out alternate assessments? You mean the state is going to create more standardized assessments?
And don't forget that this is all tied to Read to Achieve – one of the biggest failures in Berger's tenure.
From an October 2018 Charlotte Observer report:
The General Assembly passed Read to Achieve legislation in 2012. It was modeled on literacy efforts in other states, including the "Just Read, Florida!" program created by Gov. Jeb Bush in 2001. The goal in North Carolina was to end "social promotion" by keeping students in third grade until they could read at grade level and providing extra support to help them get there.
But in the years that followed the percent of North Carolina third- and fourth-graders graders passing state reading exams stayed flat or declined. National reading exams showed equally discouraging results.
And this.
Political grandstanding. That's all this is.