Today an editorial appeared on WRAL.com that took State Superintendent Catherine Truitt to task about her commitment to the Leandro decision in the wake of a fast-tracked bill to bring more "science of reading" into elementary classrooms. All public school advocates in the state should read it.
It begins,
"In her first opportunity since becoming state Superintendent of Public Instruction Catherine Truitt missed the mark.

She chose to take a partisan side-seat with the leadership of the General Assembly instead of standing up for the children of North Carolina and the State Constitution."
It then states,
"She should be in the forefront – out ahead – in pushing the legislature to adopt the comprehensive plan that has been developed by bringing together the various parties in the Leandro court case in to meet the State Constitutional right to give every child access to a quality education.

There's nothing secret about the Leandro plan. It was put together through a court order and overseen by Superior Court Judge David Lee. It has had a very significant public airing, subject to review by the defendants including the State Board of Education and the plaintiffs – the students who have been denied access to a quality education and the several local school boards."
That op-ed is spot on and is a reminder that following the campaign contributions of a candidate gives insight into the priorities that that candidate stands for.
It is perfectly lawful to donate to a political campaign, and with the Citizens United case decision from the Supreme Court a few years back, it is now lawful for corporations to donate money through political action committees (PACs) and Super PACs.
However, while it is lawful, it doesn't mean that some interesting ethical questions occur especially when well over two-thirds of the campaign contributions reported for the second quarter for Truitt's campaign came from donors whose actions and interests run totally antithetical of supporting public schools.
Two donors represented an out-of-state for profit charter school chain.
Two represented the private entity that controls the surreptitious algorithms that produce EVAAS scores and then calculates damaging school performance grades.
One was a recent chariman of ALEC.
One was a chancellor of an online university that received monies from the state to start up in NC. That person wase also the candidate, Catherine Truitt.
Here's one couple.
The state pays more than three million dollars annually to SAS which was co-founded and is still run by Jim Goodnight who according to Forbes Magazine is one of the top donating executives to political campaigns. In 2016 he donated much to a PAC for Jeb Bush who while in Florida instituted the school performance grade system that North Carolina uses now – the same one that utilizes EVAAS reports to measure schools (https://www.bizjournals.com/triangle/blog/techflash/2015/10/forbes-sas-goodnight-among-tech-execs-for-top.html).
It also is worth looking at the fact that his wife, Ann Goodnight, is a co-founder and board member of BEST NC. When BEST NC had its 2018 legislative meeting, it brought in the toxic Michelle Rhee and her campaign for value-added measurements to discuss policy. That "closed-door" meeting was held at SAS headquarters.
The most recent principal pay schedule that garnered well-deserved criticism was spearheaded by BEST NC with legislators behind the scenes over the summer of 2018 utilizes EVAAS data.
Too much is being dictated by a private entity that is privately calculating data in a secret fashion to measure a public good and how much should be spent on that public good in a state that wants to privatize that public good.
There's just too much incestuous synergy there.
Jonathan Hages's Charter Schools USA is based in Ft. Lauderdale. His political contributions to politicians in North Carolina are rather numerous.
And his wife gave the maximum as well.
Below is a screen shot from followthemoney.org from earlier reporting periods which tracks campaign contributions to political candidates. Here is a list of candidates who have received money from Hage in NC.
There's Jerry Tillman, the former public school administrator who was a champion for opaque charter school regulation until his recent retirement.
And there's Jason Saine who loves charters as well. He was recently the national chairman of ALEC.
There's former Lt. Gov. Dan Forest, who sat on the state school board and lambasted DPI under Dr. June Atkinson for its report on charter schools that said they were disproportionally representing populations. And he ran for governor with a platform to drastically expand vouchers.
Back to Truitt's campaign finance report. Look there was Jason Saine again – this time as a contributor.
And lastly, Truitt listed herself as a contributor making sure that she hit the maximum contribution in three different ways.
If you go to the report for the third quarter contributions, more names appear.
There's Baker Mitchell, the founder of the Roger Bacon Academies which have campuses in our state.
Mitchell wrote his own op-ed in the Wall Street Journal about charter schools making claims that were easily debunked.
Here's another well known person in NC: Art Pope.
Pope bankrolls a few entities in the state that trumpet his libertarian ideals. He was also the first budget director for Gov. Pat McCrory, a man who cowered under people like Berger, Tillis, Moore, and others who sought and still seek to "reform" public education in NC. It's also worth noting that Truitt was a senior education advisor to McCrory.
And here's Dr. Terry Stoops of the John Locke Foundation, an entity founded by Pope. Stoops founded his own charter school in Wake County.
Recently, he appeared with the new Lt. Gov. Mark Robinson at a press conference announcing an "indoctrination" hotline to allow the public to report teachers to a task force that will "investigate" those claims.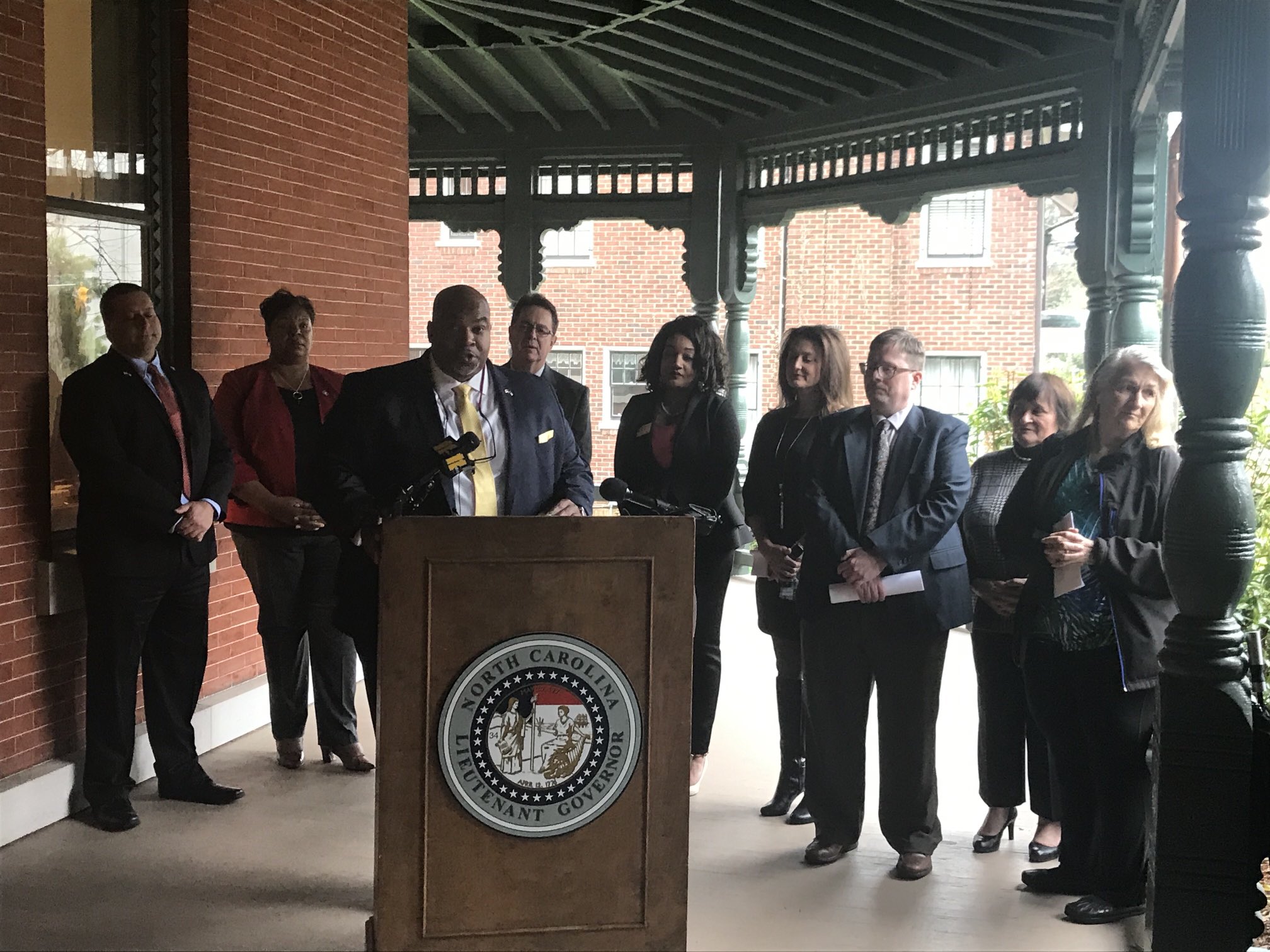 That's Stoops third from the right.
So, there are multiple founders of out-of-state for-profit charter school chains, the leading funder of ultra-conservative think tanks in the state, the richest man in NC who also happens to own the private company that generates those unfounded EVAAS scores and school performance grades, and the educational mouthpiece of the John Locke Foundation whose is in favor of the indoctrination witch-hunt started by the new LT. Gov. who denies the existence of systemic racism.
Yes, Catherine Truitt does need to be asked who she really stands with.