This morning it was reported that Pulitzer-Prize winner, MacArthur "Genius Grant" recipient, and UNC-CH alumna Nikole Hannah-Jones turned down an offer to teach at UNC-CH's School of Journalism.
From that News & Observer report:
Hannah-Jones said her tenure was originally delayed because of interference from political appointees and from Walter Hussman Jr., who gave the journalism school its largest gift ever.

"It's pretty clear that my tenure was not taken up because of political opposition, because of discriminatory views against my viewpoints and, I believe, because of my race and my gender," Hannah-Jones said.

"It has to be made clear: I went through the official tenure process, and my peers in academia said that I was deserving of tenure," she said. "The board members are political appointees who decided that I wasn't."
Please be reminded that this whole debacle was not a result of the actual university but is the result of the governing body of the public university system – the Board of Trustees.
Here's how the Board of Trustees is selected.
Four are appointed by the NCGA.
Eight are selected by the UNC Board of Governors.
And how is the UNC Board of Governors selected?
The Hussman School of Journalism and Media at UNC-Chapel Hill faculty issued a statement as soon as Hannah-Jones reveaed her decision.
Hussman Faculty shared their reaction within a few minutes of her announcement, saying, "Today, we learned that Ms. Nikole Hannah-Jones has declined a tenured appointment as the Knight Chair in Race and Investigative Journalism at the Hussman School of Journalism and Media."

"While disappointed, we are not surprised. We support Ms. Hannah-Jones' choice. The appalling treatment of one of our nation's most decorated journalists by her own alma mater was humiliating, inappropriate and unjust."

We will be frank: It was racist."

"It is understandable why Ms. Hannah-Jones would take her brilliance elsewhere," they wrote.
So, how does this reflect on the NCGA's attitude towards secondary and primary public schools?
In essence, 12 of the 13 people responsible for this shameful episode are hand-picked by the General Assembly – the same body of lawmakers that have executed an assault on other faces of public education in North Carolina.
The same body of lawmakers who constructed gerrymandered district lines along racial lines.
The same body of lawmakers who enabled people who don't believe in systemic racism to "write" social studies standards.
The same body of lawmakers who crafted the stingiest unemployment benefits system in the nation, sustained the lowest minimum wage that is legal in the country, denied Medicaid expansion, and deliberately stalemated the creation of a new budget.
The same body of lawmakers who created all of this:
From the 2020 Public School Forum of North Carolina's report on top ten issues in NC education.
Source: John DeVille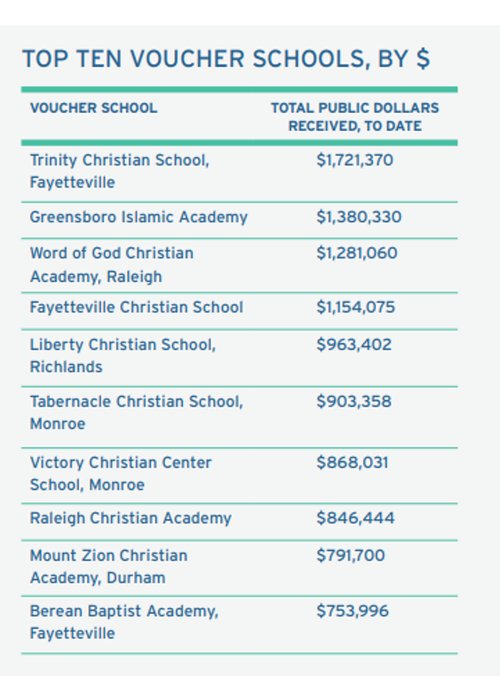 Source: Kris Nordstrom
Source: Derek Scott