It is less than four months until the general election and people can vote for a new state superintendent.
Hopefully, Catherine Truitt will not win that office. In what seems to be her central campaign platform, Truitt is calling for a directive from the state about opening up. She herself offers no real in-depth plan herself – just let the local districts dictate things.
This is her tweet about it today.
It's been a running theme. From 2 days ago: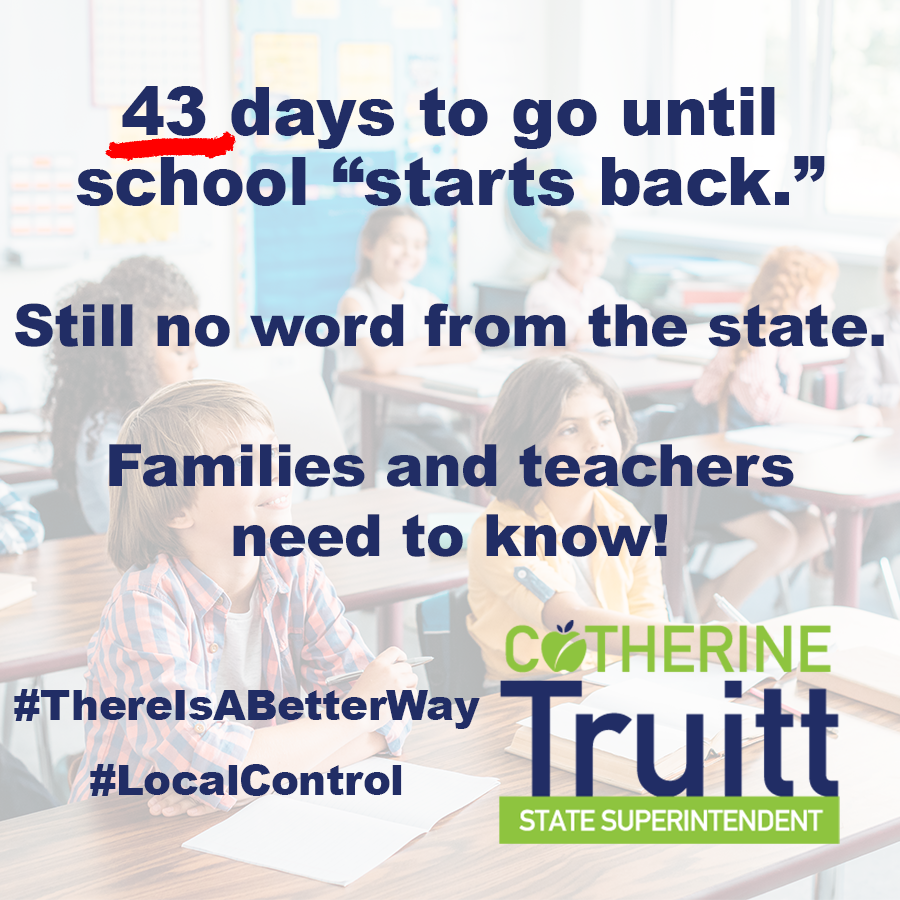 3 days ago: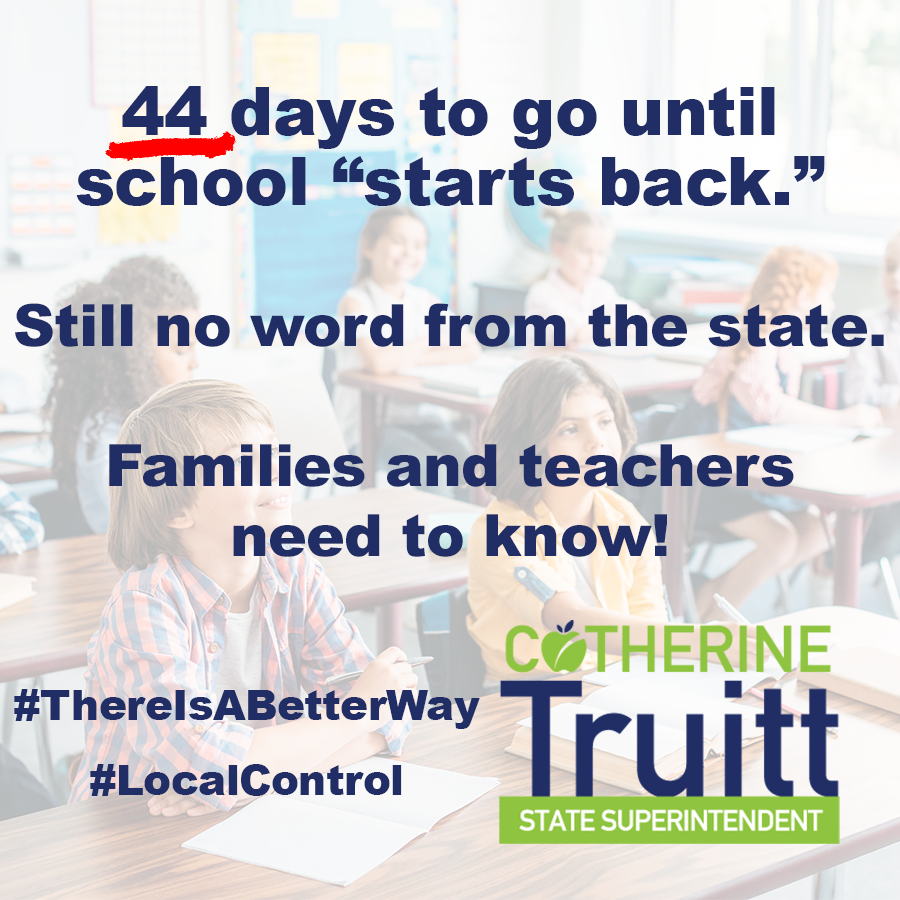 4 days ago: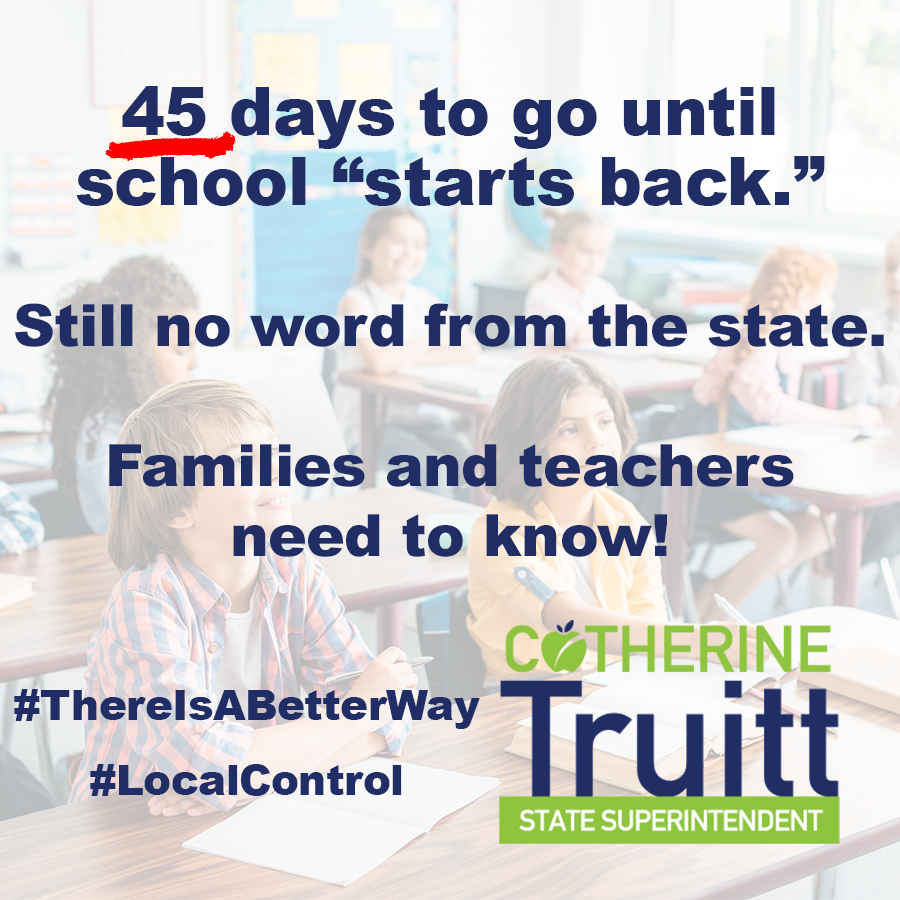 Truitt's platform right now is all about attacking the governor – not about what she will do for schools. But even a directive from the state is not the end all be all.
Truitt does not acknowledge that there is more than meets the eye. One principal on her last tweet called her out on her misleading call.
If Truitt actually knew teachers and schools, she would know that every LEA right now is scrambling to figure out what it will be doing. My own school system has another board meeting tonight to make plans based on what it can do and then implement that plan when a directive is given and what parameters are placed by the state.
But Truitt never talks about things she would do if she becomes the state super to allow for this "local control."
Each LEA could have its own unique plan (115 school systems in the state). And because charter schools are not under the auspices of the local school system from which they get money, it seems logical that each charter school could have its own unique plan for reopening. Think about start dates, how many days of remote instruction versus in-person to begin school year, etc. For instance, look at Davidson County in the Triad area. There are actually three LEAs within the boundaries of Davidson County: Davidson County Schools, Lexington City Schools, and Thomasville City Schools.
Literally the same geographical area, but three different reopening plans could be taking place for multiple campuses. Keep in mind that plans can do different things for elementary, middle, and high school campuses within the same school system.
With so many school systems going in different directions, it would be hard for the state to even think that we should have standardized state and federal tests next school year. It would also bring into question the school performance grading system, past rules on calendar flexibility, the 10 day-attendance "rule" to ascertain size of student body, and the law that states we have to start the beginning of the year in person. WHAT DOES TRUITT HAVE TO SAY ABOUT THAT?
Furthermore, if each school system is to have its own reopening plan, then it is easier for the state to say, "Do what you think is best for your schools and students, but enacting your own plan means that you finance your own plan with your own resources (and we aren't going to offer a state-plan)."
Think class size chaos (and remember that really has not gone away). That was a state mandate that Raleigh passed along to the locals, but never gave funds for it to be implemented. The state passed the bill on to the LEA's but state was the entity who said that they had to "buy" it in the first place.
All while reducing state revenue with tax credits to corporations.
So Truitt wants to tell local system, " You do your own thing."
WILL TRUITT FIGHT FOR MORE FUNDING AND REOSURCES FROM THE STATE TO HELP THEM?
Her words as the senior education advisor for then Pat McCrory seem to show that she would not.